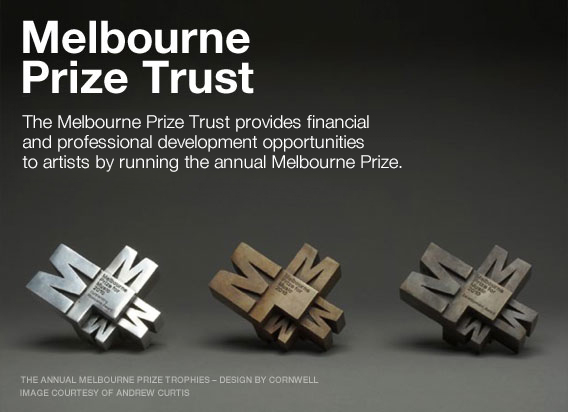 ---
About us
The Melbourne Prize Trust, established in 2004, provides financial and professional development opportunities to artists by running the annual Melbourne Prize, which operates in a three-year cycle as follows:
/ Melbourne Prize for Literature (2021)
/ Melbourne Prize for Music (2022)
/ Melbourne Prize for Urban Sculpture (2023)
The Trust has three objectives, which are met by 
running the annual Melbourne Prize:
/ to recognise and reward excellence and talent;
/ to inspire creative development;
/ to enrich public life.
The annual Melbourne Prize is run as a competition each year in the three-year cycle. Please click here for information on the current annual Melbourne Prize. The Melbourne Prize Trust is an Income Tax Exempt Charity listed on the Australian Federal Government's Register of Cultural Organisations with Deductible Gift Recipient Status.
History
The Melbourne Prize Trust was established as an Income Tax Exempt Charity and Deductible Gift Recipient in 2004 and commenced the annual Melbourne Prize in 2005. The founder of the Trust, Simon Warrender, announced the annual Melbourne Prize, following the unveiling of his project being the commissioning of The Magic Pudding sculpture as a centerpiece of a new children's garden precinct in Melbourne's CBD at the Royal Botanic Gardens Melbourne.
The Prize is established to provide opportunities for Victorian writers, musicians and sculptors and recognise and reward excellence and talent, inspire creative development and enrich public life. Proceeds from the sale of miniatures of the Royal Botanic Garden's sculpture of The Magic Pudding contribute to the Melbourne Prize Trust. 
Click here to order a miniature of The Magic Pudding at the Royal Botanic Gardens Melbourne – proceeds from the sale of miniatures contribute to the annual Melbourne Prize.
The first three-year cycle of the annual Melbourne Prize commenced with the Melbourne Prize for Urban Sculpture 2005. The Trust funds the annual Melbourne Prize through cross-sector partnerships from the public and private sectors. The annual Melbourne Prize is open to Australian citizens or Australian permanent residents and residents of the State of Victoria.
The home of the annual Melbourne Prize is Federation Square, where an exhibition of finalists, according to each cycle, is held each November. All recipients are announced at www.melbourneprize.org
Click here for News on the annual Melbourne Prize.
The annual Melbourne Prize was founded by Simon Warrender with the foundation support from Committee for Melbourne.
Donations
The Melbourne Prize Trust is a Deductible Gift Recipient and listed on the Register of Cultural Organisations. Donations to the Melbourne Prize Trust are fully tax deductible and support the annual Melbourne Prize.
Click here to contact the Melbourne Prize Trust about making a tax-deductible donation.
Governance
Melbourne Prize Trust ABN 46 190 726 471
Melbourne Prize Limited as Trustee for Melbourne Prize Trust ACN 107 593 868
BOARD
Janine Kirk AO, (Hon) LLD, MAICD – Chairman. Ms Kirk has a distinguished career in senior leadership and governance positions across private, government and not-for-profit sectors. Her professional roles have included Chief Executive of the Committee for Melbourne, Ernst & Young partner responsible for the Victorian Government & Public Sector practice, and most recently founding Chief Executive of what is now the Prince's Trust Australia, from which she retired in 2019. Janine received an AO for her leadership & contribution to the NFP sector.
Through-out her career Janine has always given back to the community by taking on roles in addition to her busy full-time career. These positions have included many government boards, task forces and committees; and not -for- profit /community organisations. Currently she is Chair, Phoenix Australia – the Australian Centre of Excellence for Posttraumatic Mental Health and Chair, HousingFirst.
Simon H Warrender – Executive Director, Secretary and Founder. Simon, as a Bachelor of Business and Grad. Dip. in Applied Science, has extensive experience in the financial and aviation sectors and is the founder and Executive Director of the Melbourne Prize Trust. He has established a number of public benefit projects.  
Gerard Dalbosco. Gerard recently retired as a partner at EY, where he held a number of senior leadership roles. Gerard has considerable governance experience, including current roles at Medibank Private Ltd (Director and Chair of Audit Committee and member of Risk Management Committee), Melbourne Archdiocese Catholic Schools (Chair) and Gillespie Family Council and Gillespie Family Foundation (Chair). Previous governance roles have included Committee for Melbourne (Director, Deputy Chair and Chair of Finance, Audit and Risk), Mercy Health (Director and Chair of Finance and Audit Committee), Berry Street (Director and Member of Finance Committee), Loreto Mandeville Hall Toorak (Chair and Chair of Finance Committee), Newman College (Member of Finance Committee) and the NGV Business Council (Chair).
Educated in Melbourne, Gerard has a Bachelor of Commerce and a Masters of Applied Finance from the University of Melbourne. He is a Fellow of the Institute of Chartered Accountants in Australia and a Fellow of the Financial Services Institute of Australasia.
Professor Andrea Hull AO. Andrea is Chair of the Melbourne Recital Center and has had a distinguished career in the arts, cultural policy, and arts education in Chief Executive and Board advisory roles in Federal and State Government, and in education. Andrea has served on a wide variety of Federal and State Boards covering cultural, health promotion, cultural and public diplomacy, urban renewal and design, tourism, and innovation agendas. Andrea received an AO for service to the arts, to arts education, and to policy development, particularly through improving community access and involvement in cultural pursuits.
Anthony Poynton. Anthony is a partner with MinterEllison and has been associated with the annual Melbourne Prize since its inception, including as a member of the Management Committee.
Clive Scott AM. General Manager – Sofitel Melbourne On Collins. With more than 40 years in the hotel industry, Clive has a Diploma in Hotel Management and a Degree in Economics and worked for the Hilton chain for 21 years. Clive has also spent time as the General Manager Human Resources for the Accor Hotels (Australia/New Zealand/Japan).  Clive returned to Melbourne to take over the reins of the Sofitel Melbourne On Collins one of Melbourne's most well-known hotels and has worked for the group for 25 years.
Clive is actively involved in Melbourne's business and arts community and received his AM for his significant service to the hotel industry and to the arts. Clive has been honoured with the Gold Tourism Medal from the French Minister of Tourism for his contribution to tourism development between  France and Australia.  He was awarded the 2013 Silver Bernache in the category of Respect/Social Responsibility by AccorHotels, and in 2015 was made an honourary member of Les Clefs d'Or Australia. In 2018 was made a member of the Bordeaux Wine Society and awarded a Brolga Award by the Australian Dancing Society for services to Dance Sport in Australia.
Pamela M Warrender OAM. Pamela has had extensive experience in the arts and cultural sector over many decades and played a foundation role in the Australian modern arts movement. Pamela is the founder of the Committee for Melbourne and a published author and received an OAM for service to the community of Melbourne, and to the Arts.
MANAGEMENT COMMITTEE
Janine Kirk AO
Anthony Poynton
Simon H Warrender
AUDITOR Grant Thornton
ACCOUNTANTS Jamison Alliott
SOCIAL MEDIA MANAGER Sarah Kempson
AMBASSADORS
Patrick Baker Patrick is a philanthropy and non-profit specialist with The Alfred Foundation. He has established experience in governance, development and fundraising across the non-profit sector.
John Simpson John is a long standing company director with established interests in education, broadcast media, governance, the arts and social investment. He has been a non-executive director of more than 10 organisations including, Shell Australia Limited, ESSSuper (Chairman), the Melbourne Symphony Orchestra and SecondBite (Food Rescue). John has been a vigorous advocate for the Melbourne Prize since it commenced.